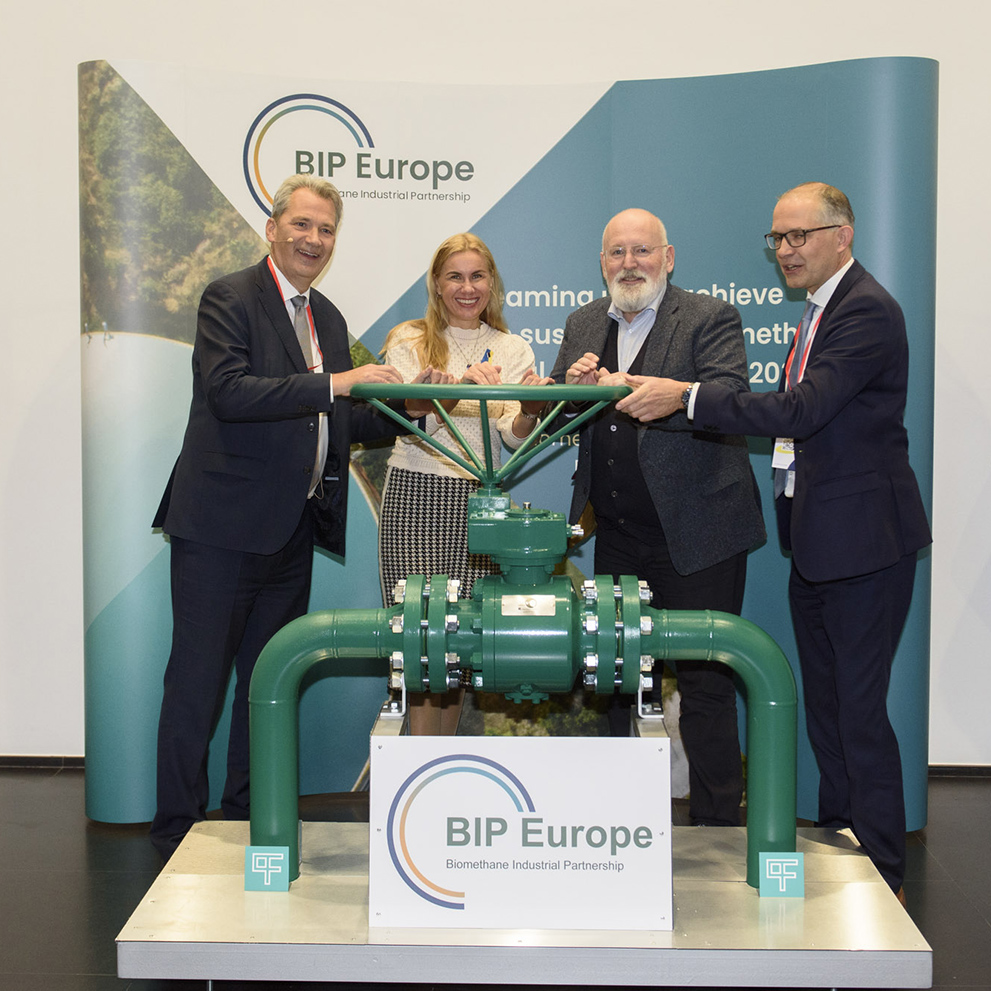 Biomethane Industrial Partnership: Pietro Fiorentini joins the cooperation promoted by the European Commission
29 September 2022 - Corporate
On the 28th of September 2022, the European Commission officially launched the Biomethane Industrial Partnership (BIP). The association, that was already announced in the REPowerEU Plan, will see some of the most important industry representatives committed to the energy transition working together. Pietro Fiorentini is one of the twelve European companies selected as founding members.
During yesterday ceremony in Brussels, a valve by the Pietro Fiorentini Group (TIV Valves) was symbolically opened by representatives of the Commission and the CEO of the European Biogas Association Harmen Dekker, to celebrate the beginning of a new era for biomethane in Europe.
The BIP aims to support the achievement of the target to increase annual production and use of biomethane to 35 billion cubic metres by 2030. This will reduce Europe's dependency on natural gas from Russia in a cost-effective way. At the same time, it will substantially contribute to an integrated net-zero energy system.
Frans Timmermans, Executive Vice-President of the European Commission in charge of the European Green Deal, said: "Europe has huge potential for the production of biomethane. With biomethane, we can replace fossil gas from Russia with homegrown, sustainable, and renewable gas. Biomethane also creates new economic opportunities in rural areas. The Biomethane Industrial Partnership that we launch today will be instrumental to increase the production and use of biomethane across the EU."
Cristiano Nardi, Executive President of the Pietro Fiorentini Group who will be one of the members of the Steering Committee of the association, added: "Our Company adheres with responsibility to the collaboration promoted by the European Commission. We're going to contribute to the spread of more and more biomethane plants throughout the continent, with important advantages in terms of reducing emissions and the sustainability of the energy infrastructure. A fundamental step towards the development of a circular economy."
The next step, on the 25th of October 2022, will be the technical kick-off of the Biomethane Industrial Partnership. Interested companies can register at www.bip-europe.eu/get-involved.
The official press release of the Biomethane Industrial Partnership is available at this link.
Focus on: Biomethane Industrial Partnership
As part of its REPowerEU Plan, the European Commission proposes a rapid acceleration of renewable energy including increasing the EU annual production of biomethane to 35 bcm by 2030. Last May, the European Commission presented the biomethane action plan, including the setup of the Biomethane Industrial Partnership (BIP). Since then, the biomethane value chain has been working in cooperation with the European Commission on the implementation of the Biomethane Industrial Partnership to make sure Europe can reach the announced EU target for biomethane production.
www.bip-europe.eu